A La Carte
This page highlights the quality and shows the level of detail that is present across our complete product line.
Are you rebuilding / updating an aircraft? Are you constructing your own design?
We are here to help!
We carry many sub-assembly components to be used on gyroplanes, ultralight aircraft, or anything else you can imagine.
The same precision and workmanship as seen in our kits shines through on every other component we produce!
To purchase these items (and much more) see the Shop tab at the top of the screen!
Rotor Heads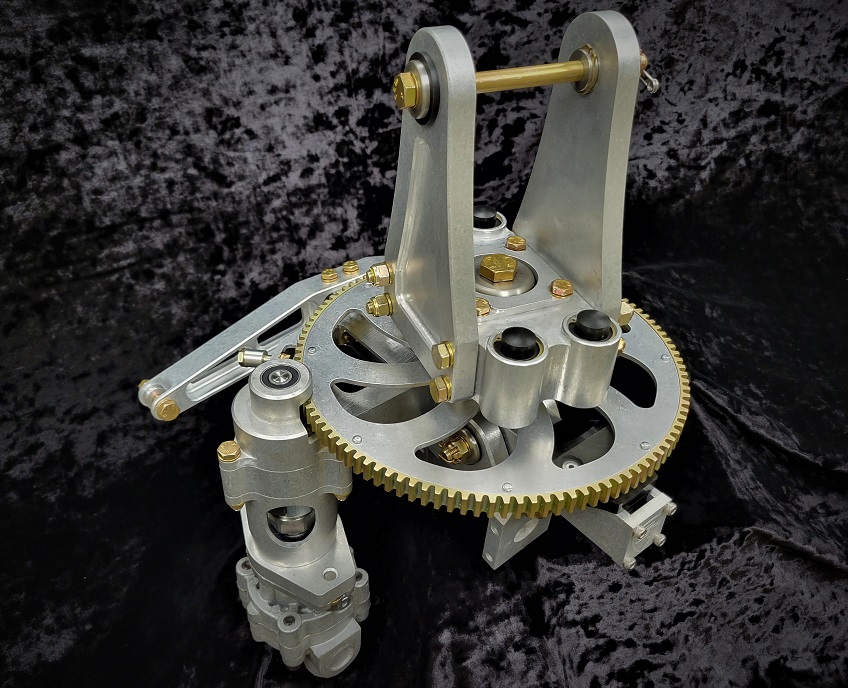 Our rotor heads are designed and machined to our exacting standards, as are all the aircraft components.
We use the highest quality, full-complement, dual-row, angular contact sealed bearings available. A ¾" gimbal offset and accompanying trim spring add dynamic stability to the aircraft.
A hydraulic rotor brake system is integrated directly into the torque tube. The brake pad assembly is pushed outward to the ID of the PR ring gear much like a drum brake. When disengaged, the brake pad retracts slightly away from the ring gear and is completely clear of the rotating components, with no chance of interference during flight.
The outward force of this system is much more effective than traditional style rotor brakes that push upward on the bottom of the ring gear and cause excessive flexing of the disk assembly.
Plastic teeter-stop inserts prevent metal-to-metal contact of the hub bar and rotor head.
To purchase these items (and much more) see the Shop tab at the top of the screen!
Ring Gears
Our ring gears use an industry-standard 108-tooth ring gear attached to a machined inner disk. We offer several configurations of center-pilot and bolt-hole mounting patterns to fit on other machines.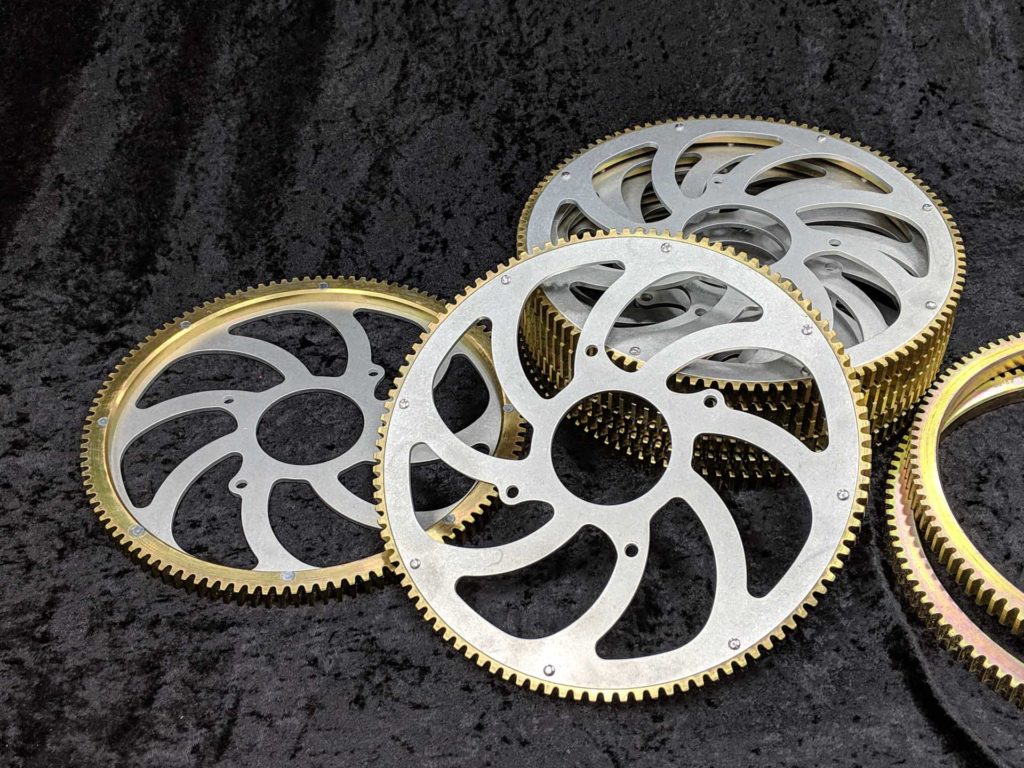 Like all our components, the ring gears assemblies are produced on CNC equipment. Precise fixturing, probing, and machining on each individual gear component results in absolute minimal run-out. Have you had trouble with an inconsistent rotor tach sensor on a wobbly gear?
Not on one of ours!
PR Drive Systems: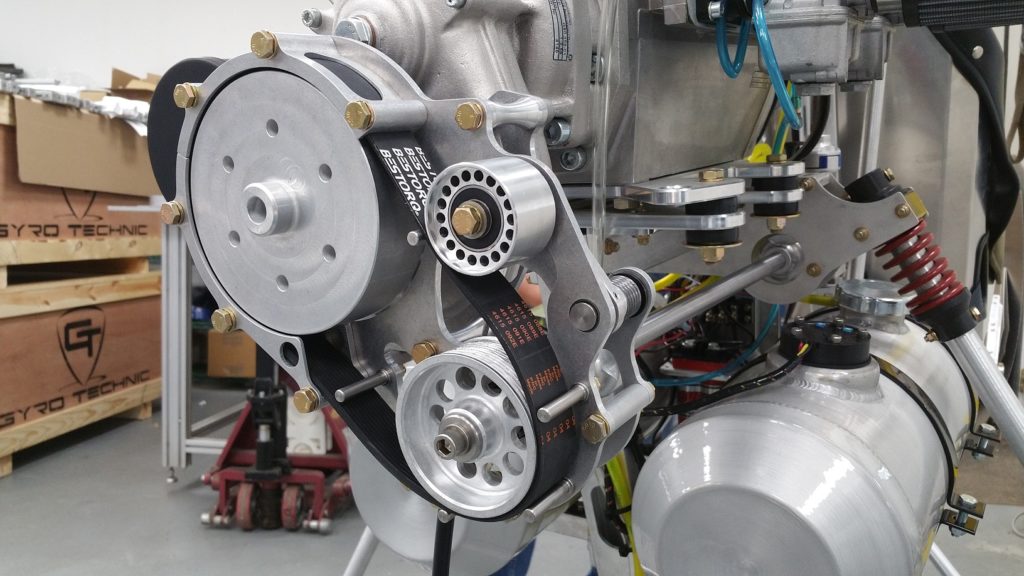 The PR drive system mounts to the engine gearbox. We offer adaptor plates for Rotax B, C, and E gearboxes as well as some Hirth models.
A Poly-Vee drive belt is tensioned against the drum pulley, sending the power through the drive shaft system.
Our unique drive tensioning system pulls the drive belt outward to the belt containment guards when dis-engaged. (This assures that the belt is completely out of contact, and not dragging on the drum pulley during flight.) The power then continues through our own custom 90° gearbox where the rotation direction is reversed. Power is then delivered up through our telescoping coupling to the rotor head.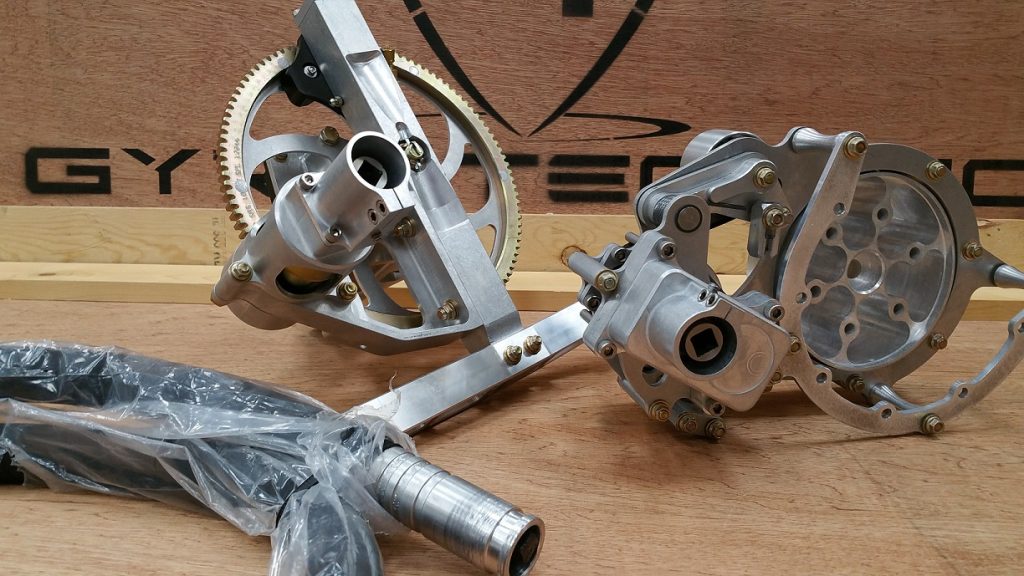 We also offer adapters to use our drive units and rotor heads with Wunderlich style flex cables!
Master Cylinders
Our dual master cylinder hydraulic brake unit is a perfect fit for a gyroplane.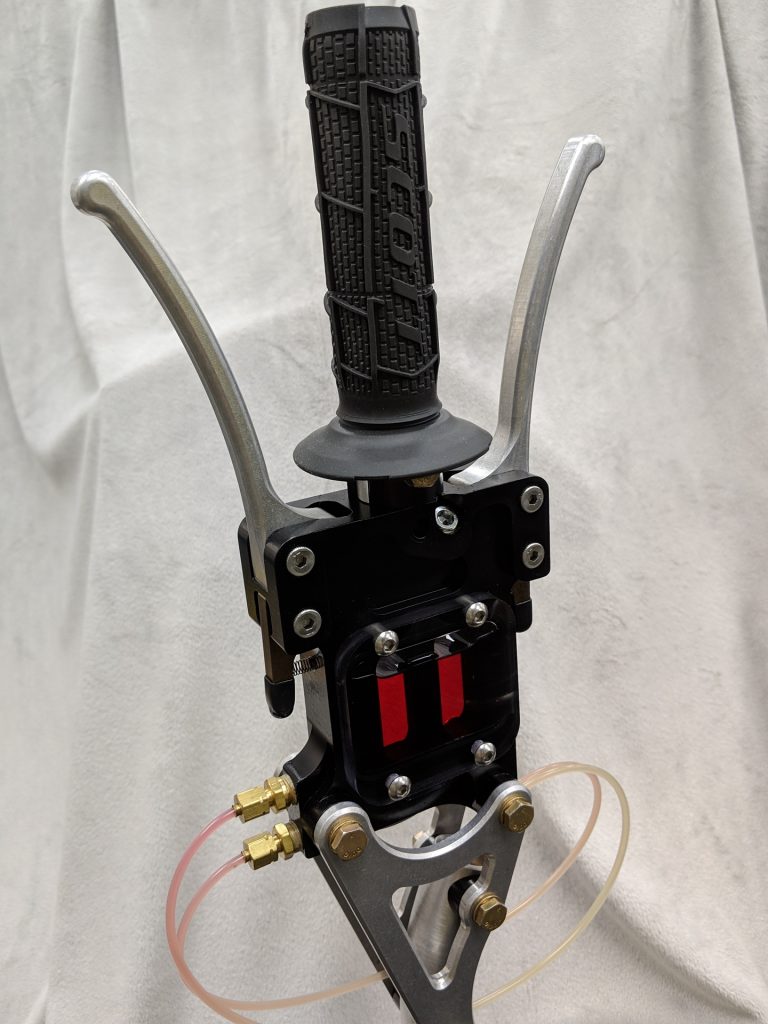 Integrated into the cyclic grip, the dual master cylinder gives convenient access to both wheel and rotor brakes. An easy to view reservoir provides fluid to both systems. Electrical passage through the center of the assembly provides a very clean install of a push-to-talk button on the top of the cyclic grip.
Typical set up is to use the forward brake lever for the wheel brakes. The rear brake is easily actuated with your thumb to slow and stop your rotor system at the end of the flight.
Both pistons are fitted with spring-loaded locking mechanism. Engage the locking lever with the brake handle depressed, and it stays locked. (wheel and/or rotor) A simple squeeze to the brake lever, and the locking lever snaps open to allow full control once again.
Brake Calipers:
Our hydraulic brake calipers and floating disk system offer dependable stopping power with minimal weight.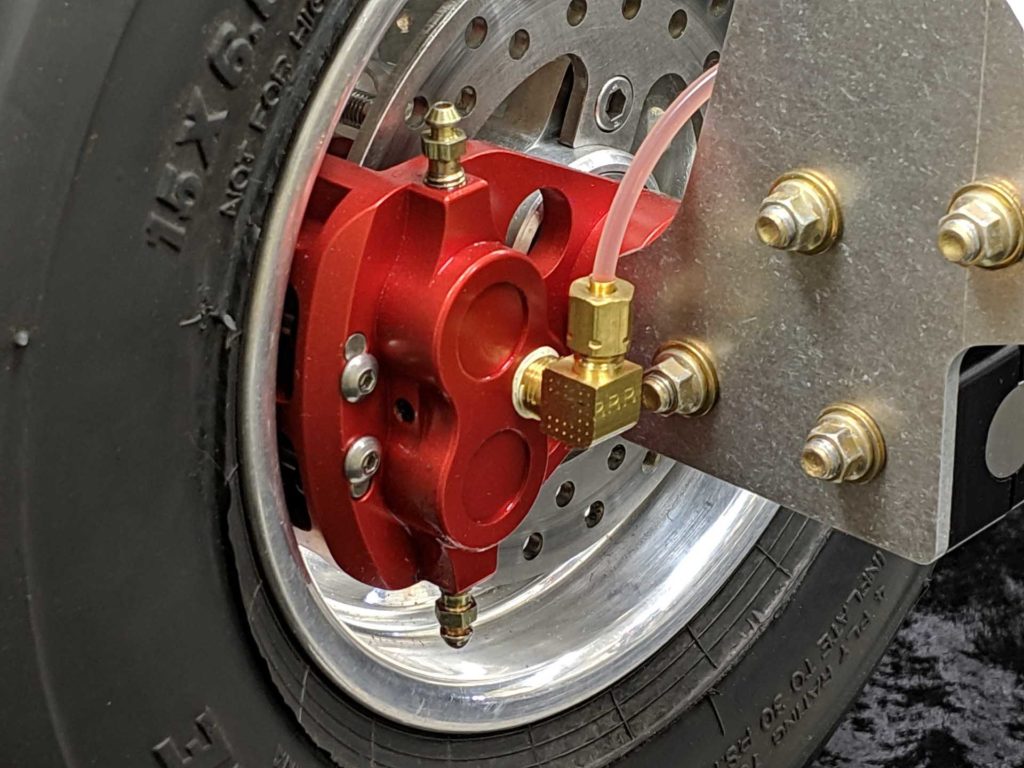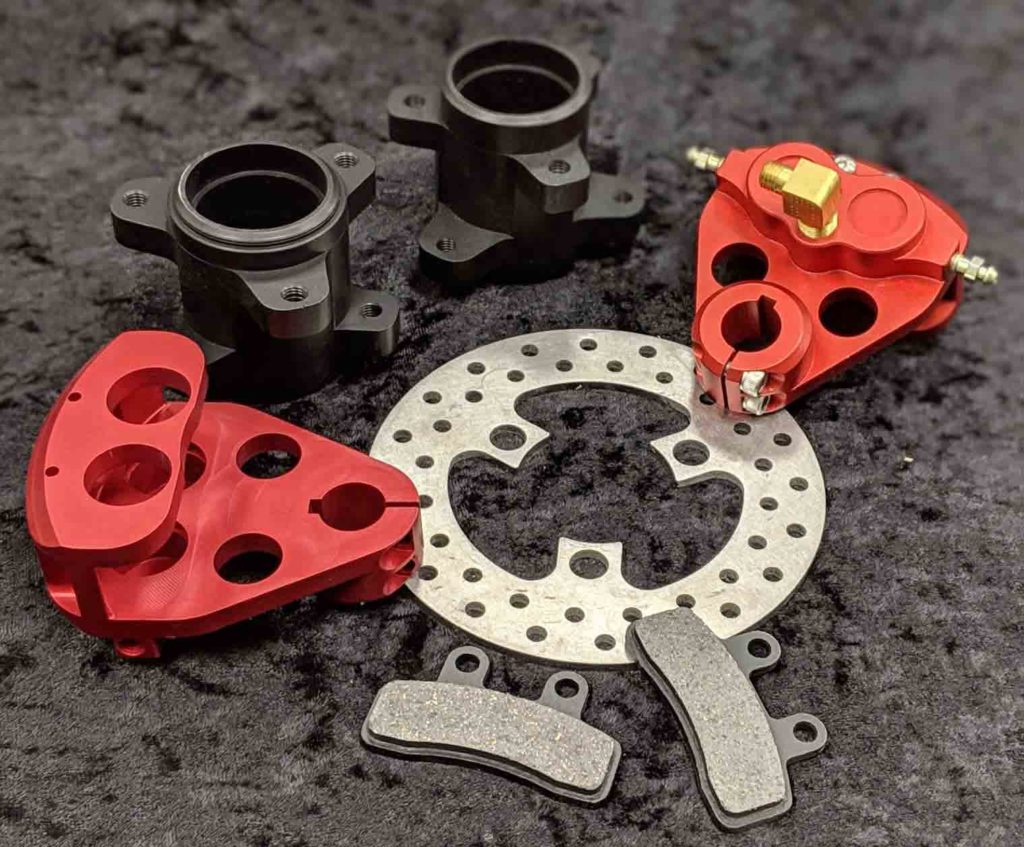 Calipers feature dual ¾" hydraulic pistons, quad ring profile seals, metal backed brake pads and standard automotive style bleeders. Fits on standard 5/8" axle with 3/16" key.
Wheels and Hubs:
6" Spun aluminum rims are polished to a mirror finish.
Light and attractive!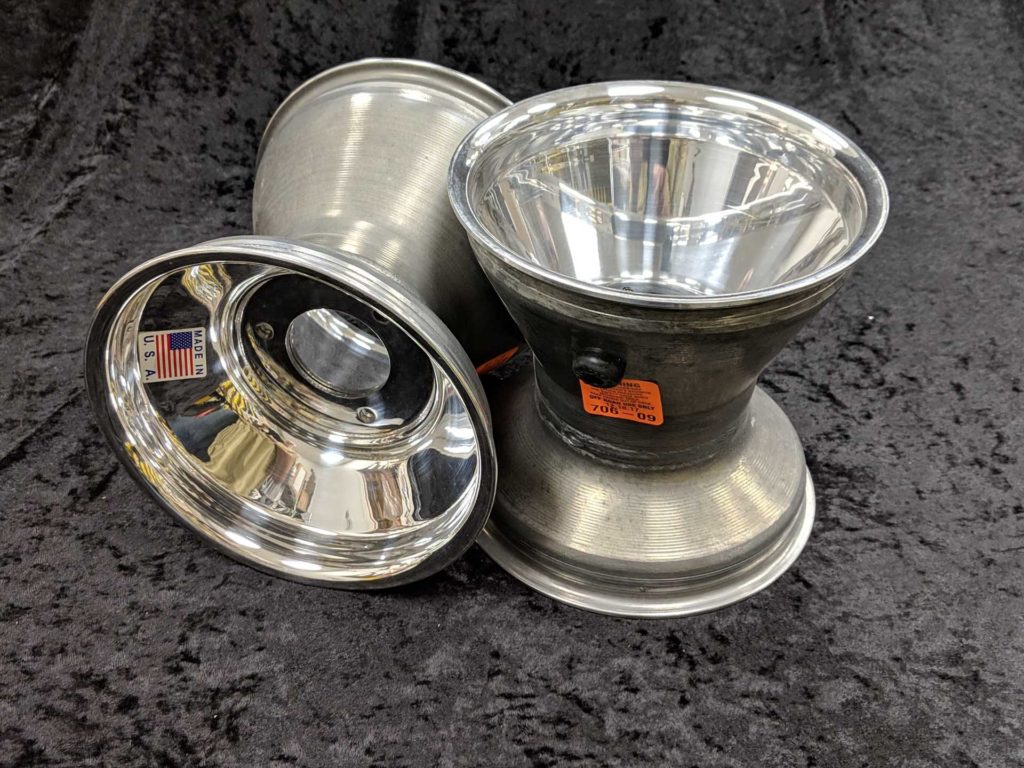 Empannage:
Our tail assembly is 56.5″ tall x 48″ wide. It includes a stationary leading edge with an independent rudder section. The horizontal stabilizer is (ground) pitch adjustable.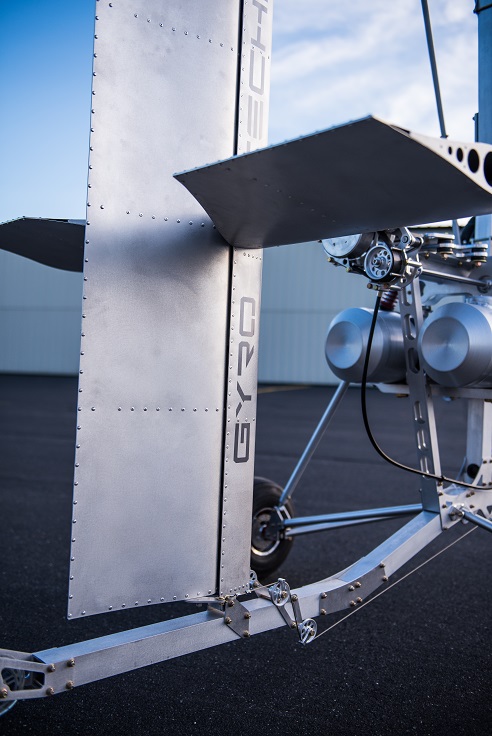 The use of our tall-tail design provides many benefits:
Virtually eliminates any "P" factor forces
Cannot "Barn door" like a full flying tail
The morphing airfoil shape provides more rudder authority with less motion.
Secure mounting system
Much lower swinging mass than in a full-flying system.
No chance of prop strike!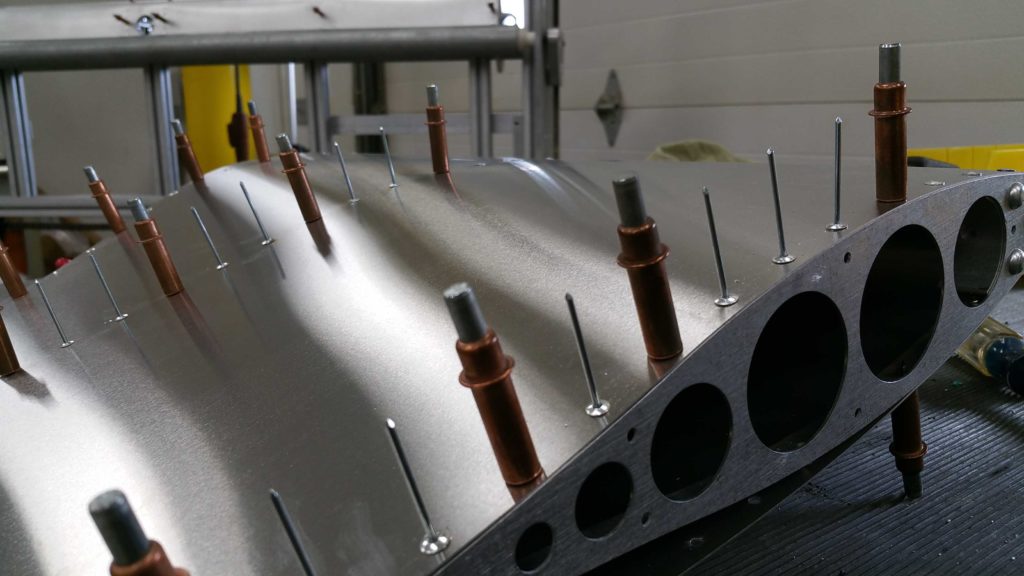 All the internal ribs are machined from ½' inch solid 6061 T6 aluminum plate, leaving only .050″ of material for the web and rivet hole surfaces!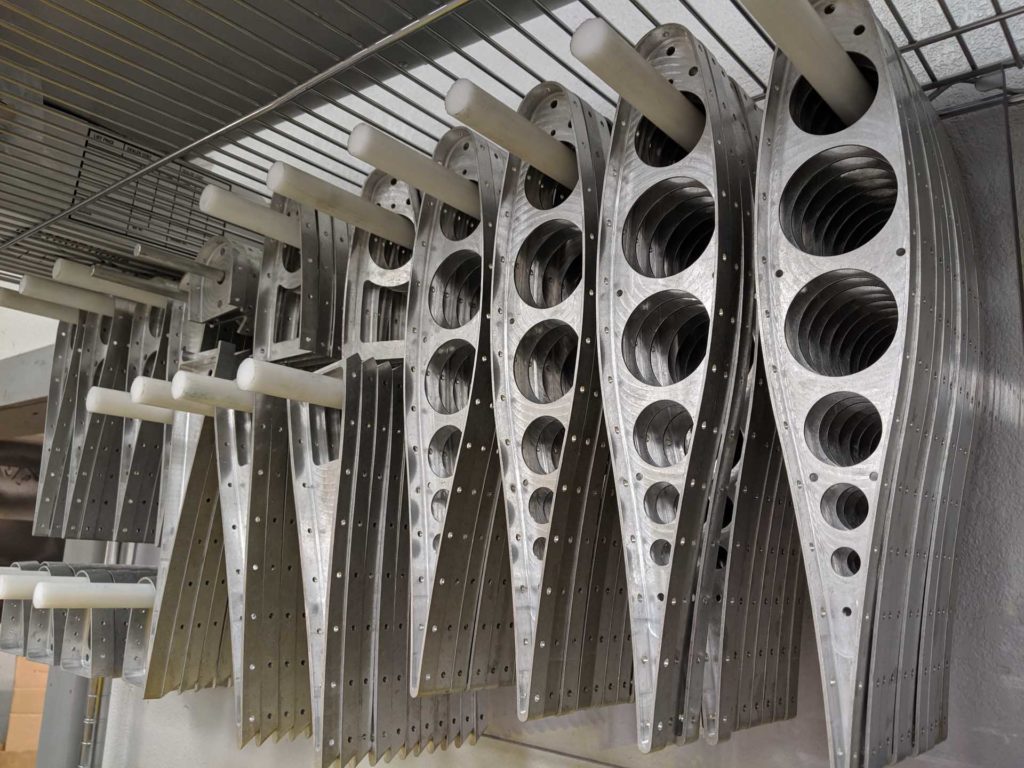 22 Ga 5052 aluminum skin is laser-cut including the 1/8″ holes. All rivet holes on the ribs are pre-drilled on CNC equipment for perfect alignment!
We can deliver fully assembled, or you can come to our shop to assemble and rivet it yourself!
Total weight: 14.8 pounds.
**Adapter kits available to fit Dominators**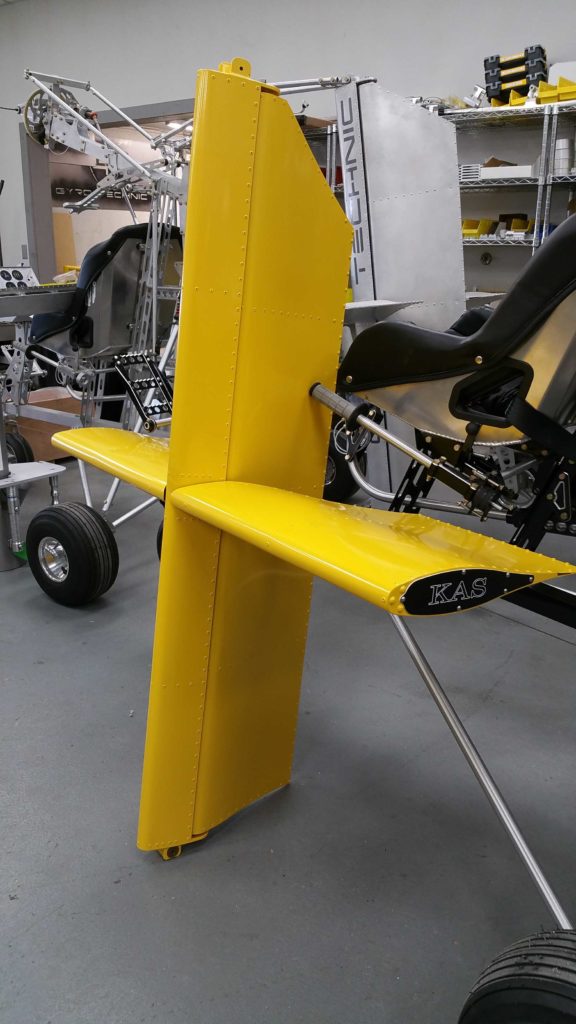 To purchase these items (and much more) see the Shop tab at the top of the screen!
2-Stroke Oil Tank
Upgrade your plastic jug to one of our aluminum / polycarbonate oil tanks! The high-tech look will make your old plastic jug look like a……. well, a plastic jug!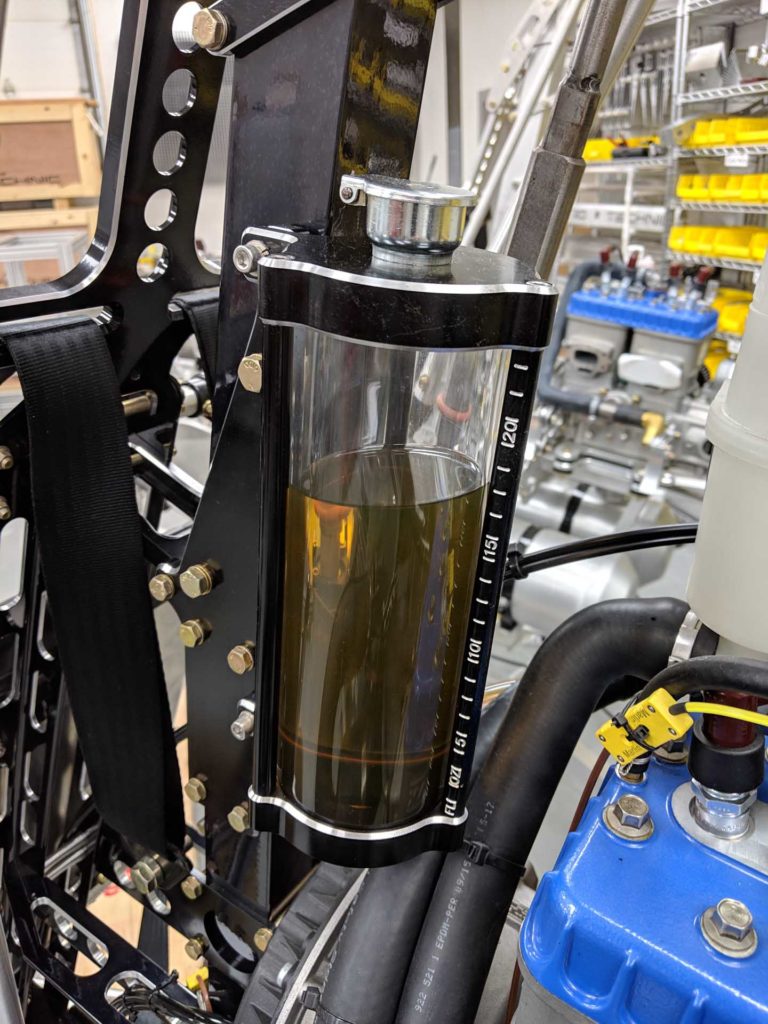 Easy to fill. A calibrated scale precisely shows each fluid ounce of oil used. Makes oil-to-fuel ratio / use very easy to calculate!
Control Rods and Fittings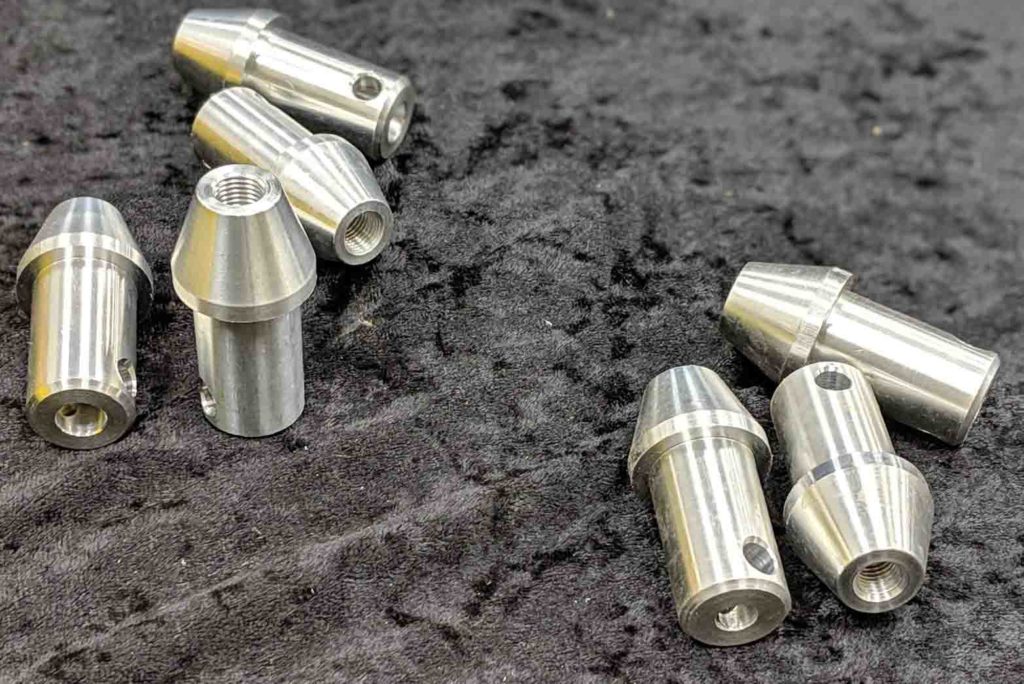 Precision machined tube end fittings for control rods or landing gear tubes.
Available for ¾" and 1" tubes with 5/16″-24, 3/8"-24 and 1/2″-20 threads.
Do you need some throttle linkage / control tubes / landing gear strut assemblies made to order?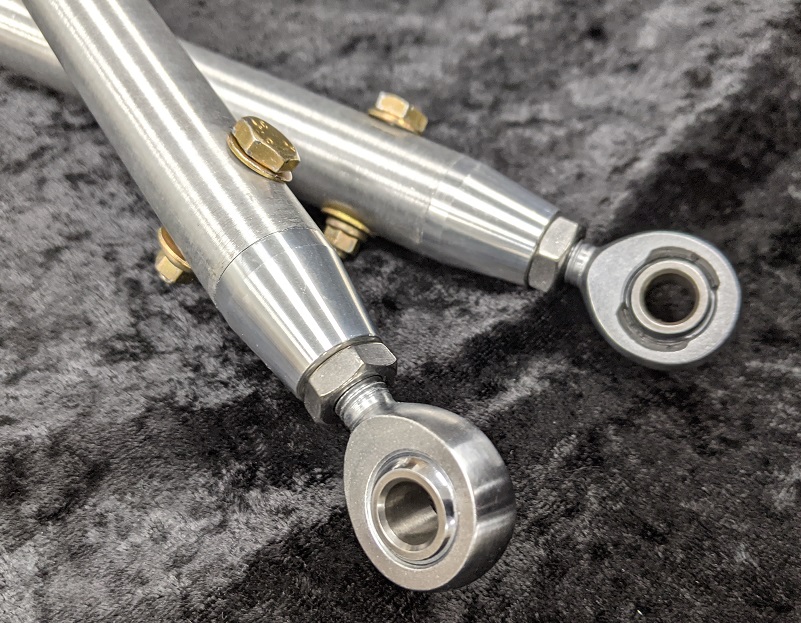 We can provide custom length rod assemblies for your machine! 6061-T6 aluminum tube with end fittings and high-strength chromoly rod-end bearings. All hardware included.
Cable Control: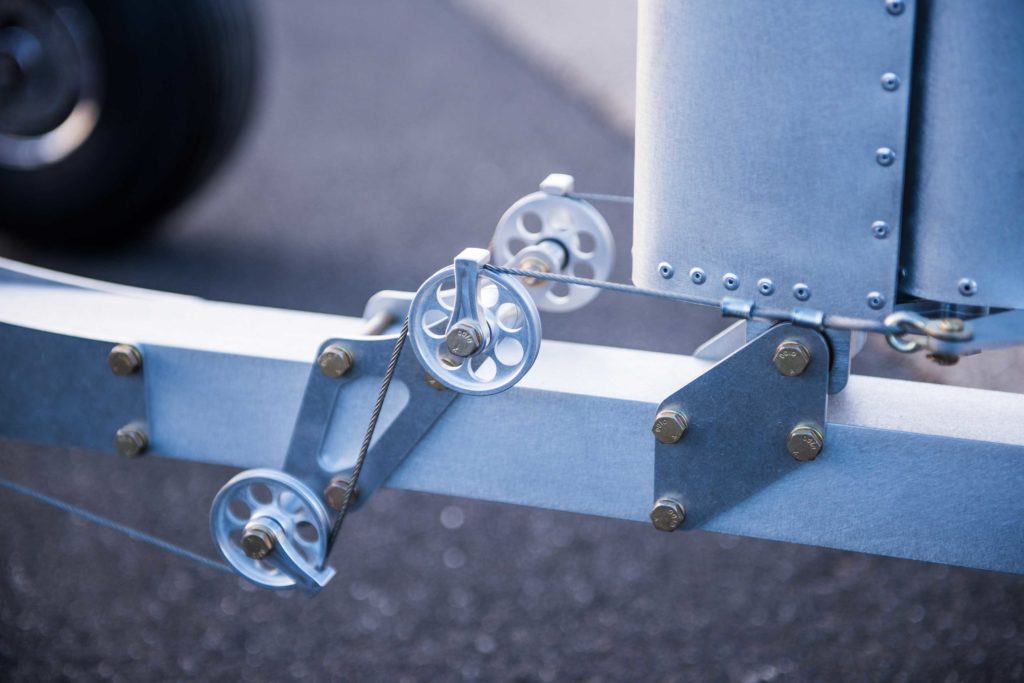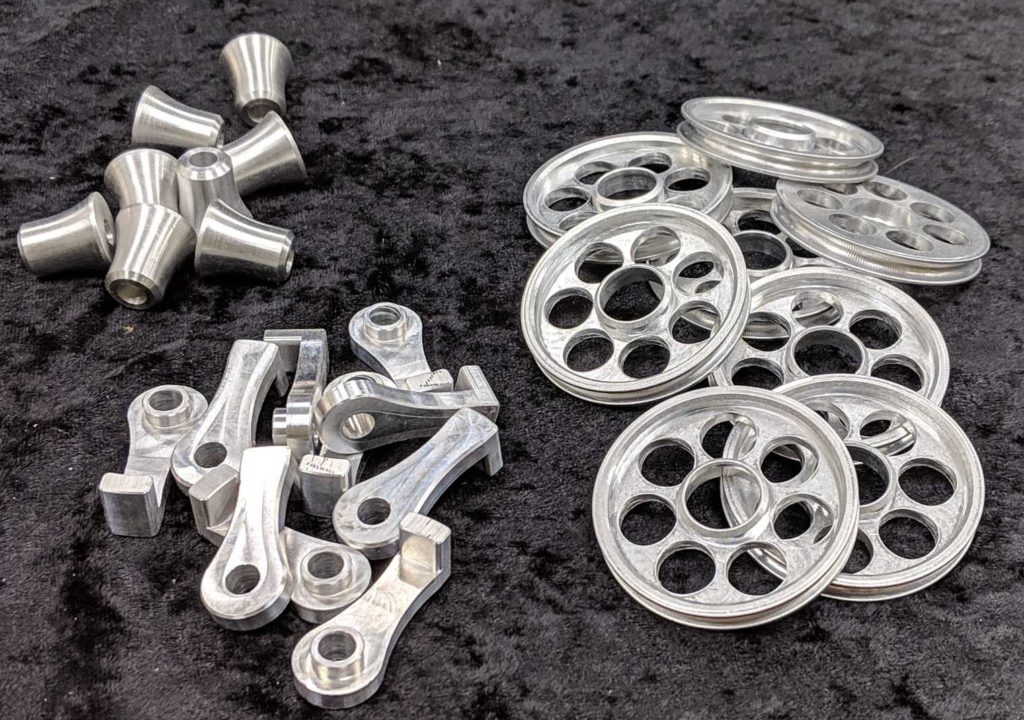 Beautifully machined cable pulleys with ball bearings and cable retainers.
Attachment Clevis:
A 16 Ga 304 Stainless, 1" wide clevis for joining tubing on your custom build. (These are nicer than the ones that are no longer available from Aircraft Spruce!)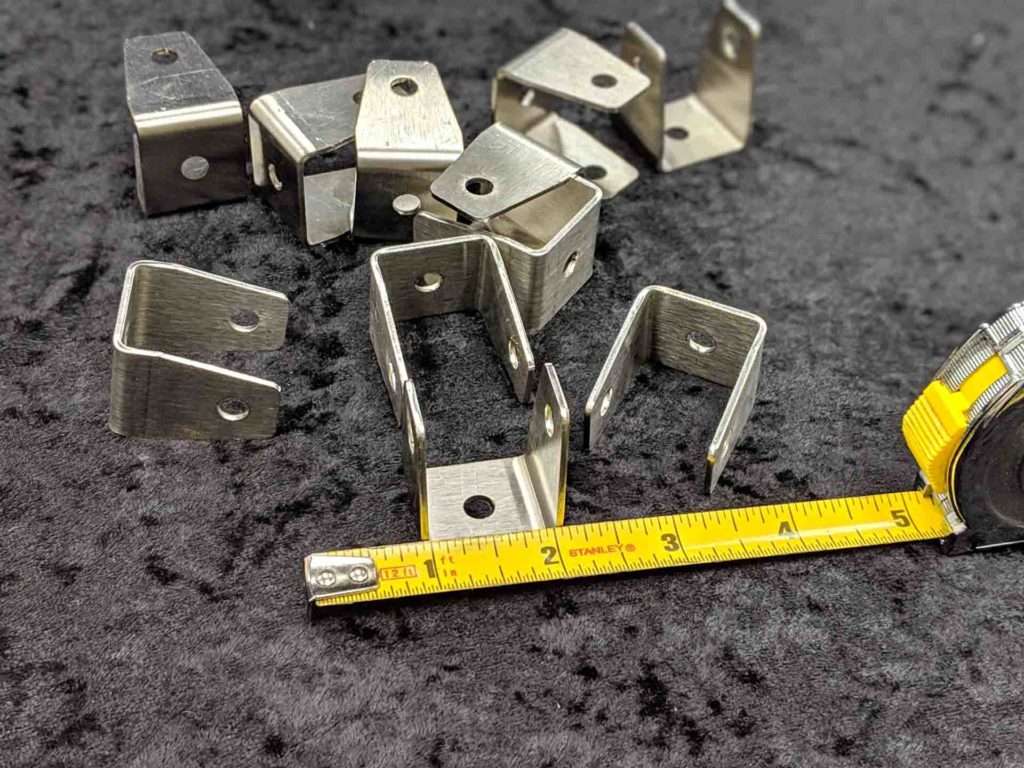 To purchase these items (and much more) see the Shop tab at the top of the screen!
Luggage Racks:
Does anyone else enjoy going to fly-ins as much as we do?
This system bolts directly to a 2" square tube frame and can be quickly detached. Just big enough for the essentials!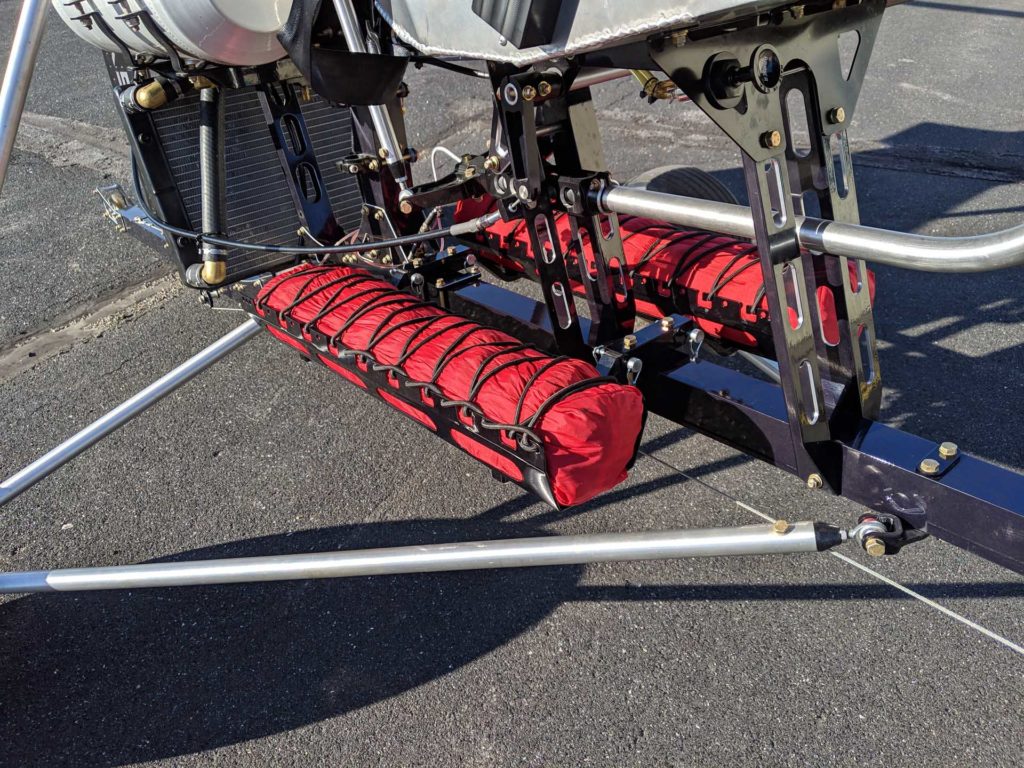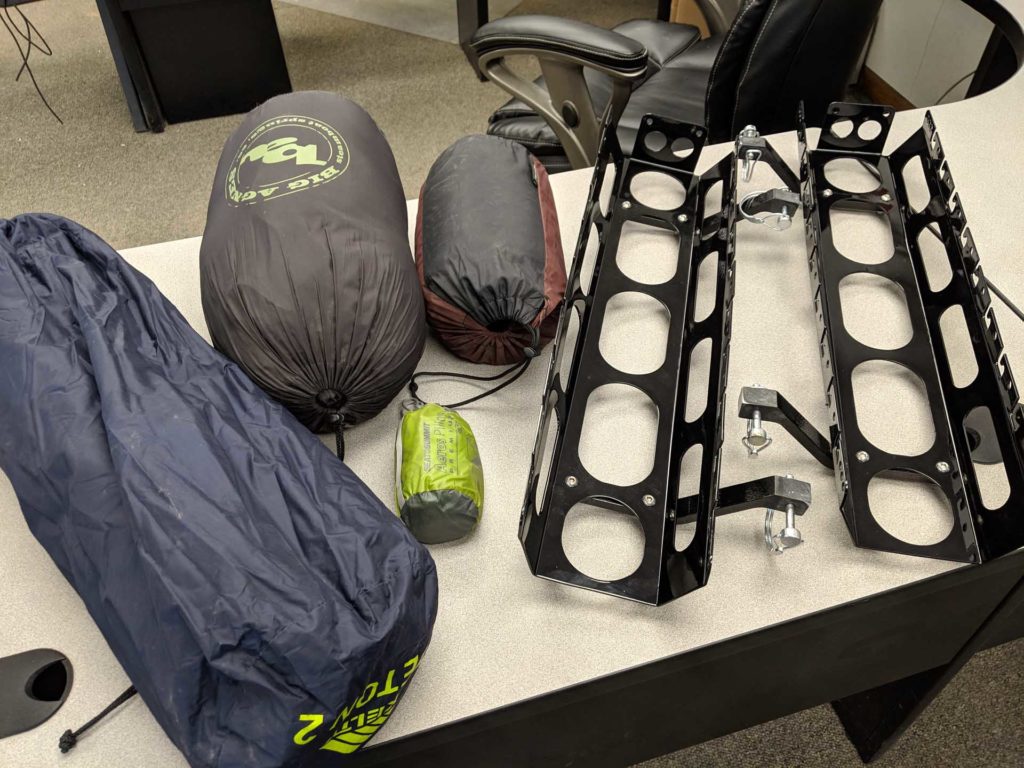 **Pilot is ultimately responsible to assure weight and balance criteria is maintained! **
Hub Bars: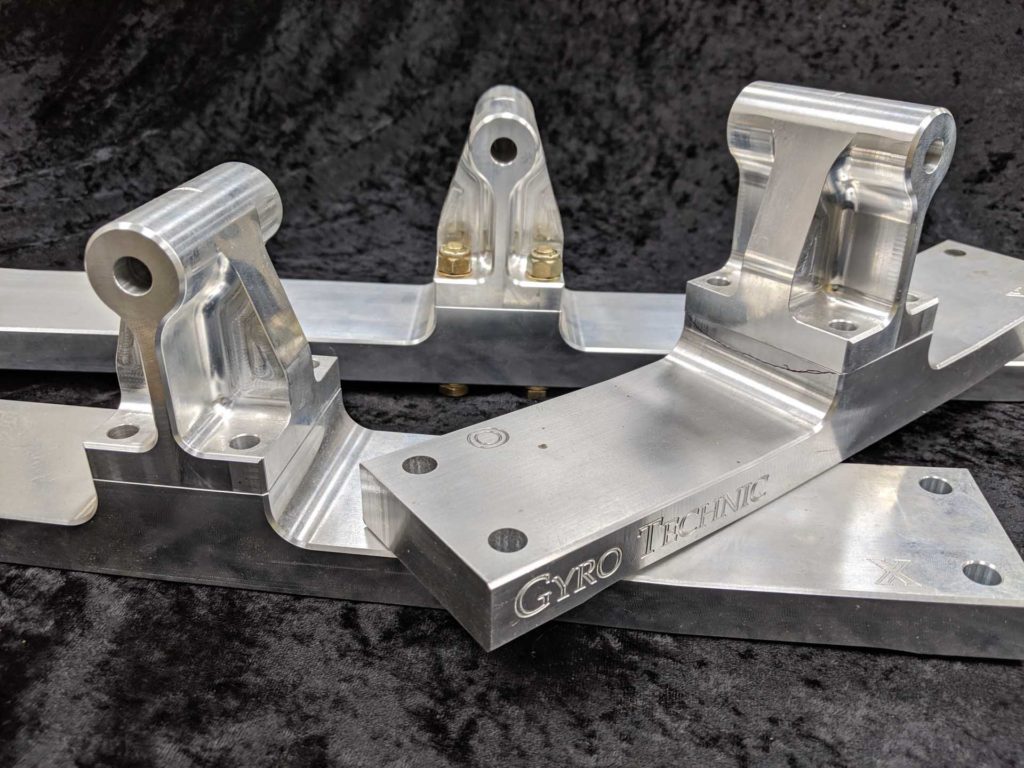 Need to add an additional 6" to 12" to the diameter of a legacy set of Dragon Wings? Give us a call!
Precision CNC machined coning angle (Not bent)
Custom Instrument Panels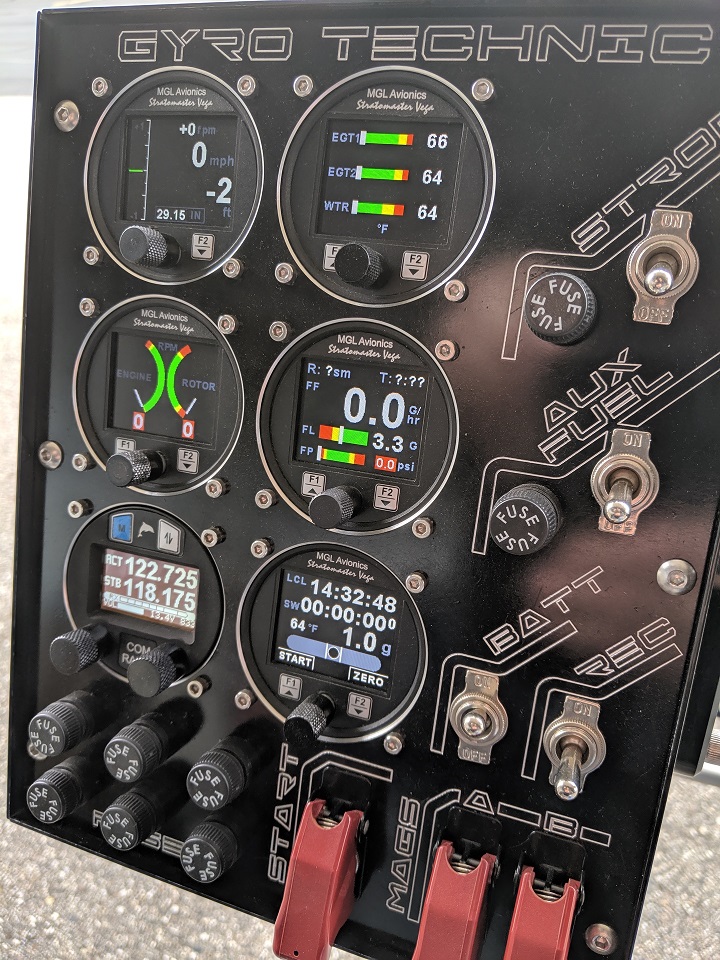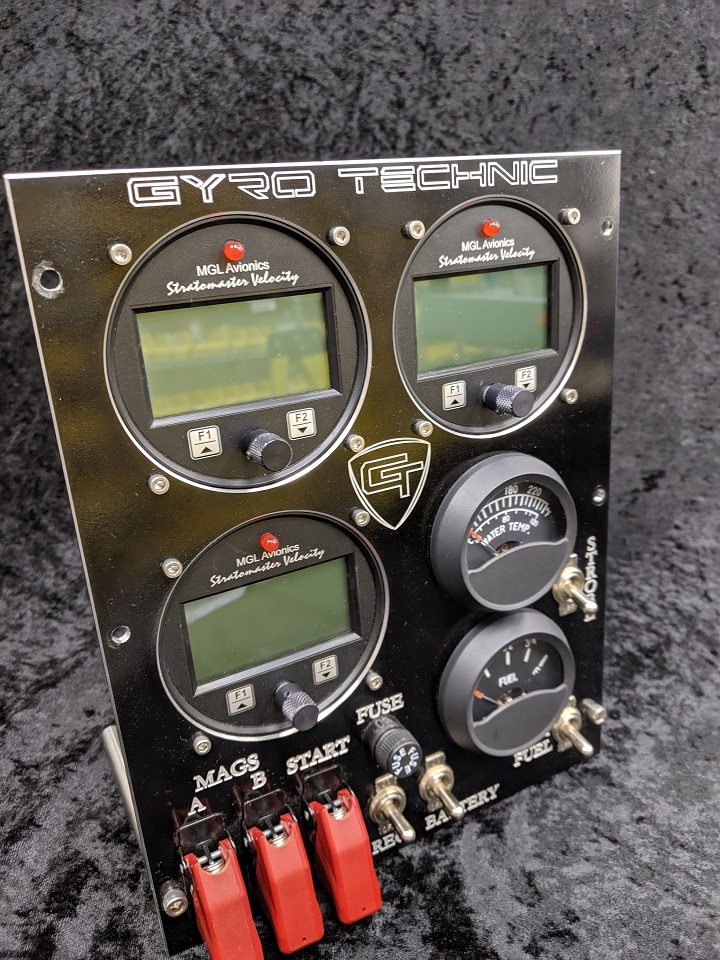 Send us a sketch of your desired layout and your instrument sizes, and we will design and machine a custom panel face for you!
Carry some extra 2-stroke oil for venturing away from you home base! Our light weight caddy securely holds a square quart bottle. Available in plain aluminum and black anodize finish.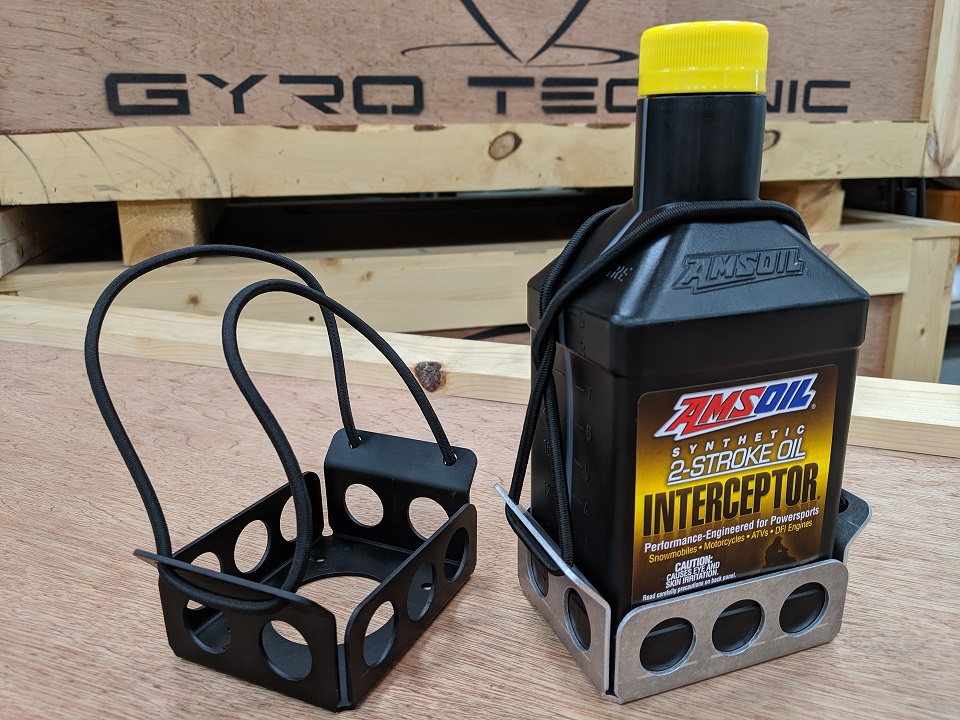 Securely mount your exhaust canister with these machined brackets. Two versions available depending on the length of your "Y" pipe length. Eight rubber grommets with machined inserts provide durable vibration dampening.