Razor Blades

Initial production has begun!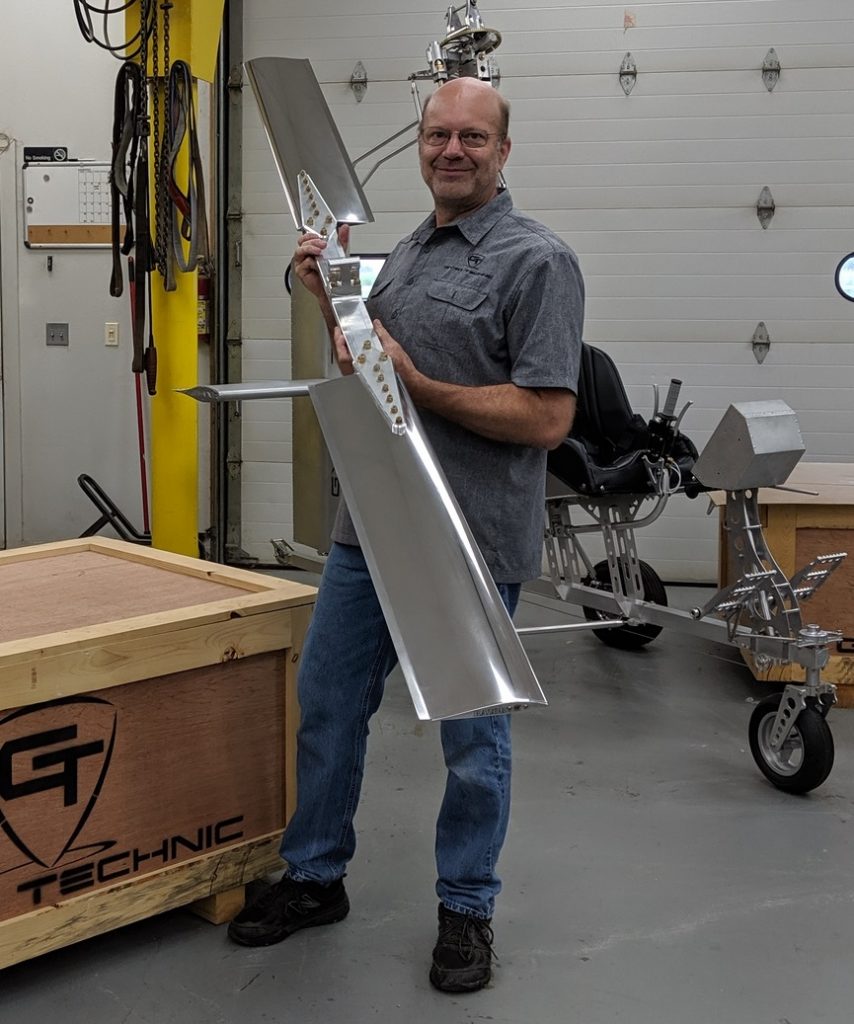 We were able to get in quite a few hours of flight time this fall before the Minnesota weather became too brisk to continue comfortably. The test results are VERY promising! We could not be more pleased and excited about the way they performed!
There are no shortcuts! Our aim is to produce the highest quality, most precise rotorcraft blades available. No expense has been spared to assure the precision and quality of these blades.
Blades are designed around an NACA 8H12 profile with reflex and a non-linear twist.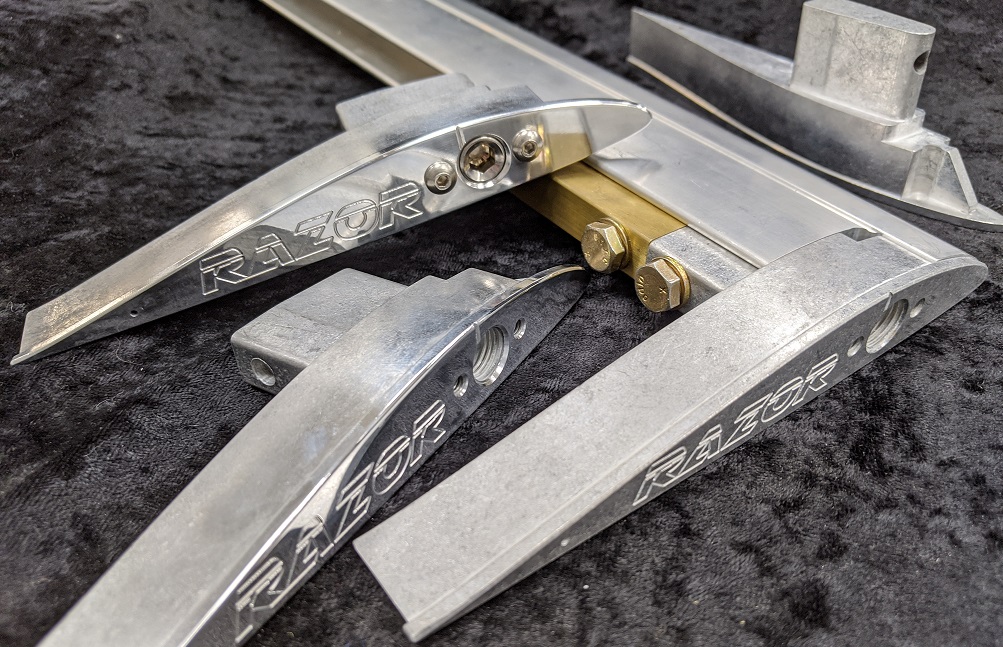 The end caps of Razor Blades are not simply cosmetic or just a way to plug a hole. These parts, as well as the leading-edge extrusions, require extensive machining. The end caps are keyed, bolted, and bonded to the leading-edge profile. This creates an extremely rigid base structure and additional surface area for the aerospace adhesive to bond the aluminum skins around the full perimeter. This dramatically increases the torsional stiffness and integrity of the finished blade assembly!
All components are CNC machined, and therefore precisely identical in size and weight.
The leading-edge extrusions are machined to within .001" in length of each other. The aluminum skins are laser cut to exact size.
IF (and it's a big IF) additional balancing is required, we provide a balancing cavity (plugged with a fine thread set screw) for adding an adjustment weight.
An engraved slot up from this cavity hole provides a precise locating feature to position a piece of fishing line for blade stringing.
Adhesive Curing
The adhesive is then heat-set in our brand new, high-precision curing oven. The blades are held in perfect alignment with the proper airfoil shape and non-linear twist, while perfectly even pressure and temperature profile is applied during the curing cycle. All material certifications and process data is collected and saved with each set of blades produced.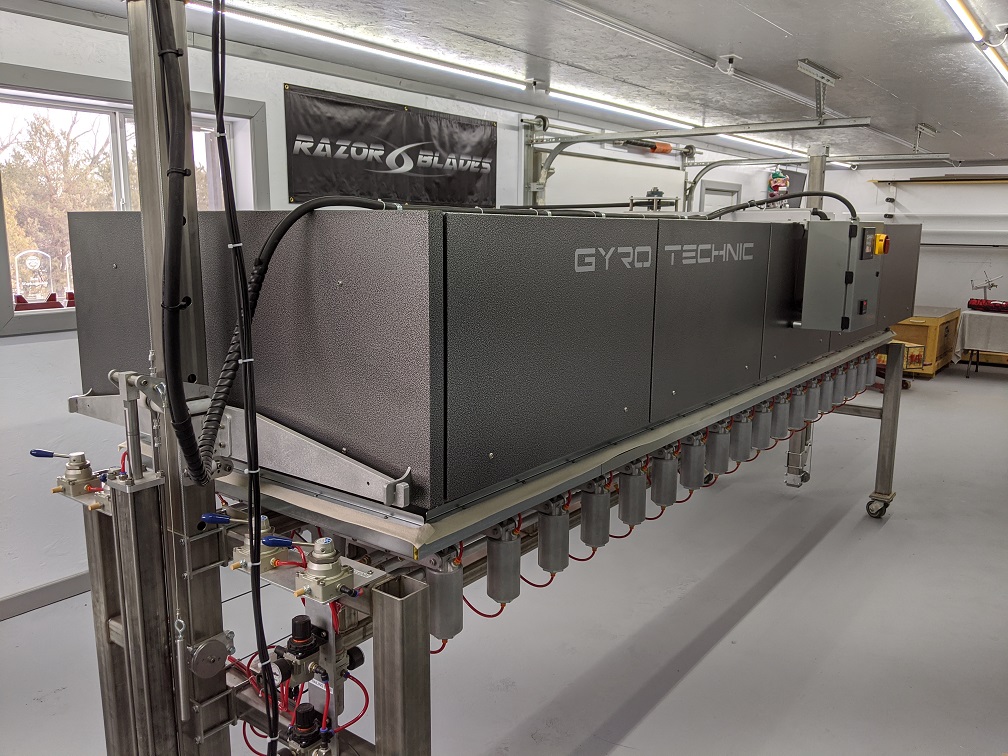 Our 12″ hub bar features a cylindrical pocket for the teeter block to nest into. Simple tracking adjustment via a setscrew with graduated markings pivot the blade set around the center of the teeter bolt hole, maintaining chord-wise balance of the system!
Teeter Block with Tracking Adjustment

Contoured straps with 4130 backers
The 2.75° coning angle is precisely machined into the bar.
The blade straps feature the best of both worlds. The aluminum inner spacers are machined to precisely match the airfoil shape for even clamping pressure and secure connection as they lovingly cradle the blades. These are capped by a 3/16″ 4130 steel plate on top and bottom for fatigue resistance.
Full traceability of all material certifications and process control documentation!
Adhesive Peel Test

Data Collection_Curing Oven

Slotting_Leading Edge

Leading Edge Extrusions
Blades will be available and begin shipping to the public starting Early April 2020!
Pricing and info:
23′ (11′ Blades and 1′ Hub bar) 51.23 lbs $2,650*
24′ (11.5′ Blades and 1′ Hub bar) 52.56 lbs $2,750*
25′ (12′ Blades and 1′ Hub bar) 54.49 lbs $2,850*
*Plus shipping
**Guaranteed shipping within 2 weeks of order placement! (After April 2020 public release) (Lead time for multiple blade sets will be quoted at time of order placement)